Having pearly white set of teeth is indeed an advantage. Luckily, there are already simple and inexpensive dental solutions in Bangkok that can help you achieve that picture-perfect smile such as crowns and veneers. Both dental crowns and porcelain veneers are very safe cosmetic dentistry procedures that are performed daily in modern dental clinics throughout Thailand.
Tooth Replacement Options (Video)
Differences Between Crowns and Vaneers
Inlays and Onlays on Crowns are performed if you need to replace an old crown and/or if you want your existing chipped, cracked or damaged teeth to get fixed. It is also sometimes used for cosmetic purposes by covering stained and discolored tooth. Crowns also help restore worn tooth and protect it from damage and cavities, especially if your teeth are functionally weak and break/shatter easily. A crown is often used to support the tooth structure with composite fillings.  The procedure involves size reduction of the original tooth to make room for the new crown. The tooth is then carefully filed to make it smaller and the crown placed to cover the entire tooth for a permanent fitting.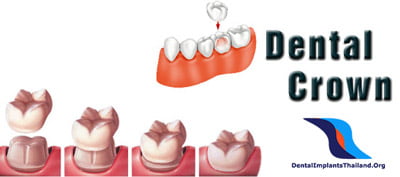 A crown can be made from a wide variety of substances such as porcelain, gold or another type of alloys. Crowns are considered to be very durable and therefore are often used for smaller more hidden teeth like the molars. The most commonly used type of crown is porcelain fused to metal. To make the tooth look more natural, they can be colored to match the shade of your existing teeth. White spots and translucencies can also be added to custom dental crowns in Thailand. The cheapest and most affordable type is the resin, however they do not last that long and could wear down eventually. The best thing about crowns are that if it properly taken care of, they can last for a long period of time, especially those made of metals.

Dental Vaneers Overview
Veneers are used mainly to fix cosmetic dental flaws and enhance one's teeth while keeping a natural look. Similar to crowns, vaneers are a non-invasive dental procedure that can help protect your teeth from damage and cavities.
A dental veneer can be made of a thin layer of resin or dental porcelain. The veneers we offer in Bangkok are all custom baked in our dental Labs. The final materials used largely depend on your budget and length of trip for your dental holidays. Veneers can be placed on a single tooth or entire mouth. During the short procedure, our internationally trained dentists will remove parts of the enamel on your tooth to allow the new veneer to be permanently bonded to the front portion of your teeth. Use of temporary dental veneers maybe required while the permanent ones are being created and baked. Some dental clinics in Bangkok also offer ready-made veneers to reduce the length of time needed in Thailand. Your veneers will be made specifically to fit your teeth and mouth in a very natural way. It usually takes at least two visits to get custom veneers. First day/visit to the dentist is to take measurements and prepare your teeth and veneers. The second trip is required for the installation and bonding of your new veneer. The dentist may also request for a follow up visit after a few days to check on the veneers placement and your teeth.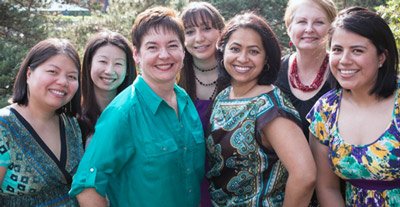 Understanding these two poplar types of dental procedures we offer at the Dental Center of Thailand will make it easier for you to identify the one that will fit you needs. If you are interested in smile makeovers in Thailand using vaneers or crowns please contact us today.