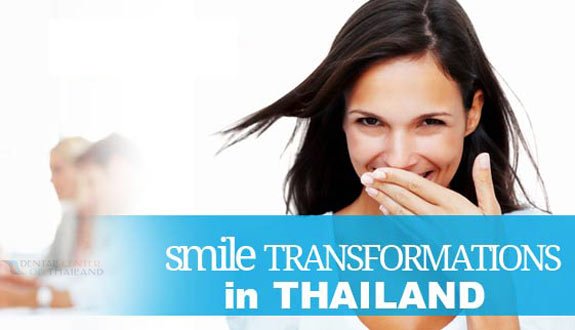 When you look good, you feel good. Even people around you can notice the subtle difference in attitude. Thanks to the advancements in cosmetic dentistry, our highly trained Thai dentists can transform your smile and change the way you look and feel in as little as 3-7 night dental vacation in Thailand. If you have been considering getting your teeth fixed for some time but have been unable to make the time or save enough money, then you may want to explore having your smile makeover in Bangkok or Phuket for a fraction of the price you would pay back home. We offer comprehensive cosmetic dental procedures to quickly and permanently enhance your appearance via a gorgeous new smile. Having Dental makeovers in Thailand affords you high quality treatments to help correct a wide variety of oral problems such as gum grafting surgery,Crooked teeth,broken teeth,missing teeth or discoloured teeth in just a few nights.
Before & After Smile Makeover in Thailand
Get The Smile You Have Always Wanted
Smile makeovers can be used to correct a wide variety of issues such as unsightly gums or uneven gum line. The dental makeover solutions available in Thailand can dramatically change your smile by changing the width,color,shape or size of your teeth to help manufacture a perfect uniform and vibrant appearance. During your initial consultation, Your Thai dentists will discuss with you hopes and desires for the dental treatments. During the consultation the doctor can better evaluate your needs and oral health by checking for any functional problems that are causing unbalance such as having malocclusion.
Benefits Of Treatment in The "Land of Smiles"
The advantages and benefits of having your smile makeover vacation to Thailand include:
High Quality & Consistent Results – Our internationally accredited dentists in Bangkok and Phuket Orthodontists have performed thousands of treatments and are considered the best in their respective disciplines. Our experts are able to perform multiple cosmetic procedures simultaneously to help avoid variances that occur when several dentists perform different treatments using different materials and techniques over a long period of time.
Short Dental Holiday – Combining a holiday getaway with comprehensive smile makeover will allow you the rest and relaxation you deserve,with the dental treatments you need for a price that is less than the cost of the dental treatment alone in your home country. Our dentists are able to combine multiple treatments in a very efficient manner to spend you precious vacation time on enjoying the sights,sounds and tastes of Thailand while minimizing the dental office visits.
Saving Lots of Money! By avoiding redundant dental procedures and combining them into an all-inclusive smile makeover holiday, our clients are able to save 40%-60% of the exact same treatments in their homes. Low prices doesn't mean low quality however. Affordable Thai medical prices are one of the main reasons 1.5 million medical tourists came to Bangkok and Phuket in 2013 alone.
Dental Makeover Questions & Prices
How can I straighten my teeth without having braces?
Our treatments take into account the short nature of your holidays to Thailand. Braces often require months of followups that are simply not feasible for our international clients.Our dentists have developed minimally invasive procedures that can help straighten teeth using porcelain veneers to conceal but the treatment is not appropriate for everyone. To qualify, please send us pictures of you teeth or dental x-rays so our dentists can offer accurate advice about what they can or cannot provide in the short dental vacation.
Smile makeovers at the dental Center of Thailand are customised solutions. for your exact needs. Our treatments seeks to minimize any downtime and focus on treating multiple-issues simultaneously. Popular components of  a total smile make over include:
Smile Gallery | Before After Pictures
Just because you were not born with a perfect smile does not mean you can't have a perfect smile. Its never too late.
We have made your dental health our priority. We can make it much easier and more affordable than ever before to have the beautiful smile you always wanted. Our skilled team of professional and english speaking dentists will take the time to listen to your needs. we will work together to determine the best solution. We can then explain (In detail) all your options and set up a complete treatment plan that's right for you. We also offer complete dental vacation packages (Guest included for Free) to ensure a no-hassle and successful dental makeover vacation to Siam.
To get fixed prices for complete smile makeovers holidays, or to learn about our many other high-quality and affordable dental treatments in Thailand please contact us.