Women and Men who currently wear Dentures understand that the usually the lower dentures present the most trouble when adjusting to wearing dentures. This can be a very frustrating ordeal for food-lovers or just simple general conversations when the lower dentures begin to float around in your mouth.
Mini-Dental Implants in Bangkok – Video
Lucky for you there is an affordable solution for you in Thailand. We are proud to offer a simple solution known as Mini Dental Implants (MDI) or sometimes referred to as Denture Stabilization System. In most of our clients requests, this simple and affordable denture implant system can be totally completed in less than a short dental holiday to Bangkok. In less than one day, you can eat what you want and never have to worry about adhesives to secure lower dentures ever again.  The best part is that the MDI or mini dental implant system is much less expensive than and a traditional dental implant surgery. The mini dental implants are are a very minimally invasive dental procedure like porcelain vaneers that can instantly stabilize your loose dentures and easily  eliminate the need for those messy denture adhesives.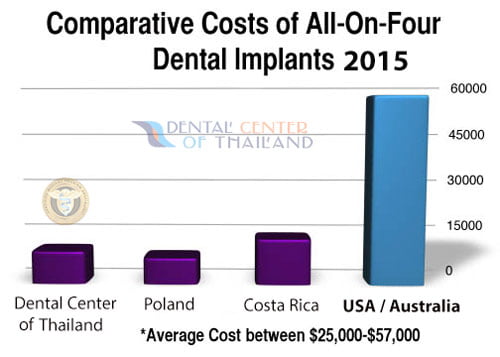 Mini vs Traditional Implants
There is simply no way denture adhesives can ever compare to the stability achieved through MDI's or mini-dental implants. The treatments we offer are designed to help our clients talk, laugh, eat with comfort and confidence. Our internationally trained and respected dentists in Phuket or Bangkok offer the exclusive small diameter implant system. Mini-dental implants were mainly developed to help provide much greater stability for those denture wearers who:
Are Budget Conscious and are Looking For An Affordable Tooth Implant Solution
Do not Have Enough Bone Area for Full-sized Tooth implants to be placed
Can not withstand the Overall Rigors Associated  With Having Full-sized Implants such as All-on-four
The Mini Drive Lock Implants MDL
Our approved Mini Drive-lock implants are also known as Intra-lock Implants are also available and are generally installed under local anesthesia. Generally, the MDL procedure only takes one a few days in Thailand and can usually be done the same day as the initial consultation. Actual treatment time for MDL can be less than 3 hours total!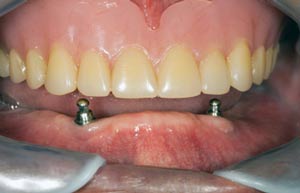 Our approved MDL Systems use a very controlled technique to insert the tiny implants (around 2 mm in diameter) onto your jawbone. The heads of the mini-implants are shaped like a small ball, the mini-implants will protrude slightly from your gum tissue so they can provide a very secure anchor location for your dentures. Small metallic housings will also be carefully inserted inside the bottom of your new dentures.  The mini Teeth implants will then snaps into place and lock your dentures into place firmly while they rest on your gum tissue. Mini-Implants are mainly designed for dental holiday seekers who want dentures to look and function like their natural teeth. To see if MDI implants are right for you please send us a copy of your recent dental exam or dental xrays.
Intra-Lock MDL Aftercare and Results
MDL implants are considered a very minimally invasive dental implant procedure.  Micro-Dental implant placement will not require you to stay in Bangkok for a lengthy period of time. Normal life can return in just a few days after your treatment. At last you can eat what your want, talk and laugh with ease and smile care free. You should feel the stability in your newly anchored dentures immediately after treatments, with no messy denture creams and adhesives.
Before and After Pictures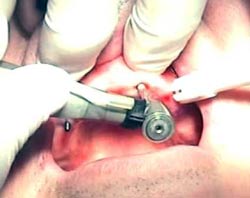 Mini-Implant Prices and Promotions
The actual costs and prices of having mini-dental implants in Thailand will depends on a few different factors, such as:
Which Dentist will be performing the procedure
What type of Implants You Requested
Locations where MDI implant surgery is performed
The Actual Implant material That is Used
Your Budget
To get actual prices for your mini-Implants from highly trained dentists please contact us using the form below. The dental implant center of Thailand can help you achieve amazing results in as little as 3-7 nights for 40%-60% less than the price you would pay back home. We offer complete dental makeover packages with guaranteed prices starting as low as $995 Dollars with significant discounts offered for treatments to multiple areas. To see if having mini dental implants is right for your or to learn more about our affordable Dental, Vision or wedding makeover packages please contact us today.