Having elective dental care in Thailand is a fantastic way to have a holiday and get your teeth fixed for an affordable price. Many patients first contact us looking for a second opinion on the quotes they have received from their dentists at home. Our quality guidelines and fixed pricing packages are an attractive alternative but do require a proper review and dental assessment. In making an initial assessment digital X-rays and previous dental records can help us expedite your request so you can quickly compare to see for yourself why the Dental centre of Thailand is the premiere destination for treatments such as mini dental implants, vaneers and dental bridges.
Dental Imaging With X-Rays & Dental CT Scans
Our in house lab also offers digital radiography using the latest equipment for fast and accurate dental X-rays.  Digital X-rays are different that traditional X-ray films thanks to the use of micro sensors that can capture and store dental images on a disk or computer.  The images are digital so they can be enlarged or reduced instantly, allowing our dentists a quick snapshot of what the problems are and what it would cost to fix them. Modern digital based X-ray machines also allow for a massive reduction in radiation when compared to traditional X-ray imaging machines.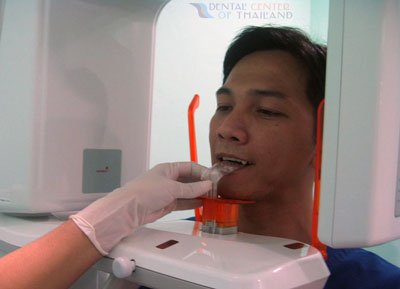 These Dental records are essential as a diagnostic tool to help us safely and accurately detect any hidden dental/oral abnormalities that might prevent a successful treatment plan.  Please note that without X-rays or CT Scans we cannot provided an accurate dental assessments with fixed pricing. Worse yet, not having regular dental care and diagnostics may result in serious problems going undetected until its too late.
Advantages of having regular checkups and digital Dental Imaging with CT Scans & X-rays Include:
Checking for dangerous cysts and Abscesses.
Screening for Cancerous or non-cancerous tumors
Screen for tooth Decay
Screen for any Jaw Bone loss
Check for Poor tooth placements and positions
Check for any Developmental abnormalities in children
Early detection can save you a lot of time, money and especially unnecessary discomfort by proactively finding any prelims and fixing your teeth for good!
Safety of Dental Imaging
Modern Digital X-rays are are much safer than traditional X-rays because they produce significantly less radiation. The digital scans are also much faster and less awkward than previous technologies. The dental images are captured electronically so the results are instant unlike before when dentists had to wait to develop X-rays in a photographic lab. This also helps reduce waste and eliminates the disposal need for any harmful chemicals back into our environment.
Despite the low level of radiation in our modern machines we still take extra precautions to limit any unnecessary exposure to radiation by using thick lead apron shields that covers the patients body.
How can i send my dental records to you center for review?
Patients can send us the dental records in one of 3 ways.
1) Regular Mail – ( Slowest ) You can mail all dental records to the following address
Dental Center of Thailand c/o Records Department
808/8 Tararom 2, Sukhumvit 55 FL3
Bangkok, Thailand 10110
Please note mailing a CD or DVD may take up to 30 days depending on customs and/or shipping method used.
2) Scan/Photograph Existing Records And Email ( Faster )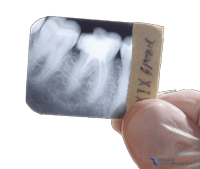 If you have hard/printed copies of your dental X-rays you can either get them digitized into files to send via email ( additional costs ) or take good photographs of the negative X-ray film in front of some lighting then email to us ( no additional costs )
3) Request Digital Copies from your Home Dentists to forward to us via email. ( Fastest )
Most dental clinics around the world now offer digital file sharing for patient records. Please check with your local dentist to see if they can provide you a copy of your dental X-rays to send to us.
All dental X-rays can be emailed to: help @ dentalimplantsthailand.org
Cost of Having Dental X-rays
The starting cost for having dental X-rays is 500 Thai Baht or around $18 AUD. This cost includes copies of your dental records that you can take home with you to enable continuity of dental care once you return back home.
Cost of Having Dental CT-Scan in Thailand
The starting cost for dental imaging using a high resolution CT-Scanner starts at only 3000 Thai Baht or around $113 AUD.
To learn more about our preventative dental programs using X-rays and CT Scans Cancer treatments in Thailand using NK Cells please contact us today.