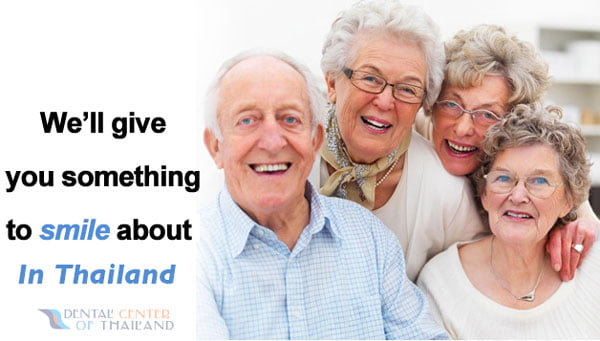 Dental Care for Seniors
As you age, it becomes even more vital that you take care of your dental hygiene and teeth and dental. One common misconception that many people have is that losing your teeth is an unavoidable scenario. This just isn't true. If properly cared for, our teeth can last as long as us. Its true that your mouth and bite strength will change over time your charming smile and full set of teeth do not have to disappear.
Family Dental Care | VIDEO
Over time, the nerves in our teeth become smaller, making teeth less sensitive to a wide variety of dental issues such as cavities or gingivitis. Annual dental examinations are one way to avoid an emergency situation but this can also fail if the issues does not get diagnosed in time.
Geriodontics – 

Dentistry for Retirees

Geriatric dentistry is one of our areas of expertise. Thailand is a popular destination for men and women in their golden years. Senior dentistry is an art as much as it is a science. Our approach to this unique set of needs is multidisciplinary and multidimensional in the way we address the dental problems for elderly patients.

The Dental Center of Thailand, provides services for our older patients with both medical and dental aspects of ageing including annual examinations, complete dental lab with radiology facilities,ambulatory needs, independent living, and reversal of sensory dysfunction. Our years of experience has equipped us to deal with the challenges and obstacles that hinder elderly patients with dental needs.

Before and After Dental care for the Aged
Poor geriatric dental care can also be very dangerous for senior citizens. Improper dental care and hygiene can lead to malnutrition, metabolic disorders, lack of hunger,gum disease and even depression. Age related Mental disorders such as Alzheimers and dementia are good examples of avoidable conditions through proper care. Additionally, many prescription drugs that the elderly take can have extremely adverse side effects such as dental decay caused but chronic dry mouth. Other mouth areas affected by natural aging process include the position and size of your lips,chewing efficiency,geriatric gum disease, taste bud related issues,geriatric teeth loss and disease of the soft tissues in the mouth. If left untreated, improper hygiene and dental care can lead to a higher risk of periodontal disease, which is clinically linked to other conditions such as strokes, cardiovascular disease, diabetes type 2 and arthritis.
Cost of having dental treatments for elderly
An ounce of prevention can go a long way. Poor dental health can be avoided but if you or a loved one is suffering through poor oral health then please contact us to find a solution. Our expert Thai Dentists offer several affordable dental care solutions such as
Our Dental Team
Our team of dentists consists of the best oral surgeons and DDS in Thailand.  Our staff is both knowledgeable and proficient in providing quality dental care for geriatric and retirees looking for a productive and exciting dental holiday to Amazing Thailand. To schedule a complimentary online consultation about having treatment options for Geriatric Dentistry services in Bangkok or Phuket, Thailand please contact us today.